What is Pomifera oil?
Pomifera, is a small deciduous tree or large shrub. It is a member of the mulberry family.
Our star ingredient Pomifera Oil, discovered by our Co-Founder and Chief Scientific Officer, has been creating a stir since he began sharing it with the world. A PhD Chemist and self-proclaimed 'Mad Scientist', Todd Johnson turned what was once simply folklore surrounding a curious green "trash fruit" and unveiled it's incredible scientific truths. The benefits and uses of Pomifera Oil have been rapidly spreading around the globe. With pages of scientific data, as well as clinical research study results, Todd Johnson has most definitely turned this trash into treasure by extracting the precious gold oil it had hidden inside of it.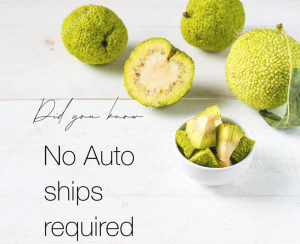 What are the benefits of Pomifera Oil?
Reduces fine lines and wrinkles
Reduces Hyperpigmentation
Reverses Rosacea
Treats and prevents acne
Repairs collagen
Calms Psoriasis
Regulates Melanin
Provides pain relief
Relieves eczema
Reduces appearance of new and old scars
Heals cuts, burns, blisters, various rashes, insect bites and stings, 
Anti-inflammatory
Super antioxidant rich
Renews skin cells
Repairs skin damage
Anti-fungal
Anti-viral
Anti-microbial
UV protective
All natural
Non-greasy carrier oil
Why do I love Pomifera?
I honestly loved the way my skin felt and looked after using it for about a week. I noticed my pores were smaller, my skin felt tighter, and I personally loved the price- it's so affordable! I have also loved that you can get specialty scrubs, lotion, soap bars and so much more all from a company that formulates its products in the USA!
What is a good starting place?
It really just depends on what you are needing. If you'd like a little taste, start with The Power of Three. This includes the Pomifera Rose Oil, Hyaluronic acid (good for moisturizing), and Vitamin C Serum (brightens).

If you're wanting to start with the basics, Defying Nature is a great bundle. It includes the Power of Three Serums, The Balancing Cleanser (so good!), The restorative Exfoliating Scrub (I use this once a week), and an every day moisturizer. You can select either dry/sensitive/mature or normal/oily/acne prone.

A complete overhaul of your facial needs can be found at Danger Danger Game Changer- This bundle comes with everything Defying Nature PLUS the Pre-Cleanse makeup remover spray.  But for the same price you can get a bath bomb and pocket mirror with the Complete complexion bundle..

Pomifera

has a customer cash back rewards program . Each item qualifies for credit that can be used within 6 weeks earning you free skincare while you shop!
Are the ingredients legitimate? I put the Vitamin C Serum to the test; If vitamin c is present, iodine will become colorless. Check out the video! 
Before and After's + Testimonials
"You know I love makeup! But do you know what I love more? I love not having to hide my Rosacea and bad skin under makeup to walk out the door. I have never used better products and my almost 50 year old skin has never felt this soft, clear, smooth , and bright. My only regret is that I did not find these products sooner."
"Started using the Acne Scar Serum with my regime about 1 month ago. First group of pictures were taken then. Second group was taken today! By the way these acne scars have been there since I was a teenager.. I am almost 60!"
Progression of the last 90 days. Regime consists of: Stimulating Exfoliant Cleanser, Nourishing Facial Moisturizer, and Acne Scar Remediation. Refreshing body mist and Toner, Balancing facial cleanser, Rejuvenating Youth Serum, and Vitamin C, and Restorative Facial Exfoliant
Shop More of my Favorites